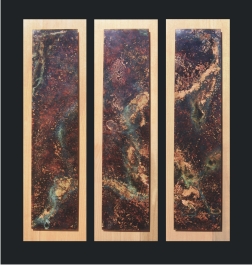 Click on image to enlarge

This wall-mounted triptych has three panels of clear vertical grain douglas fir. Raised solid copper panels are heavily patinated with a pattern that continues from panel to panel, and have copper leaf detailing over the patination.
Each panel is 10.75"x38:, with a copper panel of 7.75"x34" • $2300 (sold)
© 2009
.

Errant Art, FAX 707-527-1224
P. O. Box 1284, Santa Rosa, CA 95402

Questions and comments welcome – email us!
Site Design, photographs (except where noted) and all Illustrations ©2001-09 Errant Art, all rights reserved