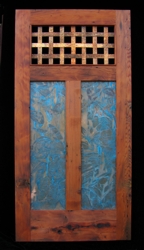 Click on image to enlarge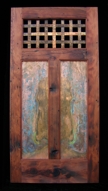 The frame of this garden gate is made from salvaged redwood, finished with oil and beeswax. Upper panel constructed of copper pipe hand pounded flat, with heat patina. Interior panels are copper sheets with extensive chemical and heat patination (front and back panels are different).
36" wide x 72" tall • $2600.00 (sold)
© 2007
.

Errant Art, FAX 707-527-1224
P. O. Box 1284, Santa Rosa, CA 95402

Questions and comments welcome – email us!
Site Design, photographs (except where noted) and all Illustrations ©2001-09 Errant Art, all rights reserved