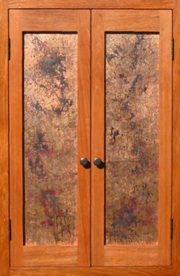 Click on image to enlarge

These are an example of custom cabinet door panels. The external cabinet is constructed of jatoba, or brazillian cherry, an extremely hard wood; the doors' panels are guilded with copper and dutch metal, with chemical patination.
Door panels: 10"x36" • Custom work; email for prices for a specific application
© 2004

.

Errant Art, FAX 707-527-1224
P. O. Box 1284, Santa Rosa, CA 95402

Questions and comments welcome – email us!
Site Design, photographs (except where noted) and all Illustrations ©2001-09 Errant Art, all rights reserved