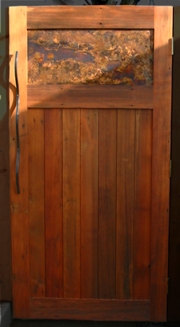 Click on image to enlarge

Kirstin's garden gate has a salvaged redwood frame, as well as lower panels, finished with oil and beeswax. Each side has a copper panel on the top chemically patinated. Gate also has two custom made steel handles – the front handle is a curved piece, and the back handle is a hammered grasp.
36" wide x 72" tall • $2500.00 (sold)
© 2004
.

Errant Art, FAX 707-527-1224
P. O. Box 1284, Santa Rosa, CA 95402

Questions and comments welcome – email us!
Site Design, photographs (except where noted) and all Illustrations ©2001-09 Errant Art, all rights reserved