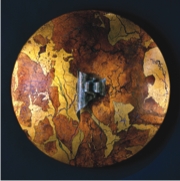 Click on image to enlarge

This urn is constructed from salvaged steeel discs, copper and dutch metal leaf with chemical patinas (see more about patinas), metalized dyes and mica powders. The stopper is a patinated copper ribbon on a wenge disk. This urn is a wall hung sculpture.
18"x18"x5" • $3200.00
©2003
Photo: Penny Wolin
.

Errant Art, FAX 707-527-1224
P. O. Box 1284, Santa Rosa, CA 95402

Questions and comments welcome – email us!
Site Design, photographs (except where noted) and all Illustrations ©2001-09 Errant Art, all rights reserved