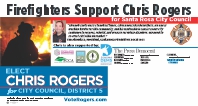 Second of two mail pieces, this postcard highlighted Jorge's support and endorsements by the community and community leaders. The campaign also included a walk card, signs, social media, website, and more.
Although Jorge did not win this seat, he remains engaged, and was recently appointed to a County board.
Designed digitally, printed conventionally.
6"x11"
Copyright 2020

Errant Art, FAX 707-595-5806
P. O. Box 1284, Santa Rosa, CA 95402
Questions and comments welcome – email us!
Site Design, photographs (except where noted) and all Illustrations ©2001-21 Errant Art, all rights reserved